KANSIRAMJI SMARAK STHAL LUCKNOW (U.P.)
The communities or ethnic groups, who do not have their culture, have no history, and eventually could not survive for long. Hence,
Dalits
,who are a distinguish ethnic group, whose culture and history has been destroyed by Aryans, atleast now, must create their own culture and history. - said Dr. Ambedkar. Bahen Mayawati has done right thing.
There are lot of Parks and Memorials in the name of Gandhi, Nehru, Hegdewar and Upadhdyaya. Dalits, who also have separate identity having a distinguish culture and history, no Park and Memorial were made in the name of dalit personality.
Gandhi/Nehru were Great Man.They have done lot of for our nation. But, have not the very thing, Ambedkar done for the nation ? Ambedkar is unparalleled. His contribution is unparalleled.You can't install such tall statue in his side. Today, Ambedkar is Masiha ( liberator ) for oppressed India specially, for Dalits. They worship his statue in their houses. There is no any dalit mohalla/ Basti/village without Ambedkar's statue.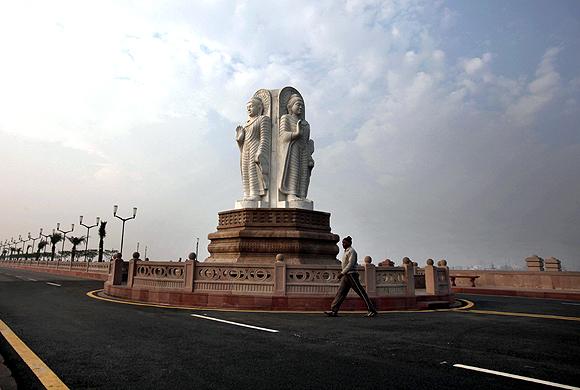 Bahan Mayawati ji, who is in leading role in Indian politics as a dalit leader, has done right thing in right time. As a CM of UP, she made several Parks and Memorials in Lucknow, the capital of Utter Pardesh.
Kansiramji Smarak Sthal
(also known as Kansiramji Memorial ) at Lucknow ( U.P.) is one of its kind and world's first Memorial dedicated to the very Dalit icon Manyawar Kansiram ji, the founder of Bahujan Samaj Party ( BSP ) and the Master of Social Engineerings.
Dr. Bhimrao Ambedkar Samajik Parivartan Sthal
( also known as Ambedkar Memorial or Ambedkar Park) at Lucknow is also such another Monument.
Both these and several other Memorials/ Monuments, Museums/Park are constructed by Ms Mayavati, the then Chief Minister of Utter Pradesh during BSP regim in the memory of Dalit Saint, Gurus and Great Men who scarified their lives for the cause of society. These historical Memorials, Monuments, Museum, Statues and Park are unique example of architecture, which reveals the theme of Buddhist art and culture in India.
Mostly Memorials and Parks which are
'Bahujan Samaj Prerana Kendrs
, are made in the name of Bahujan Nayak Manywar Kansiram ji, who struggled throughout his life to provide rights to crores of dalits, backwards and oppressed people of the country to live with dignity. He gave a new thrust to the movement for social change.
These Memorials and Park's construction were completed even keeping aside the Supreme Court directives. Supreme Court had directed to suspend work at the Ambedkar Park and 12 other projects being built in Lucknow in the name of dalit' icons.
During State Assembly election of U.P. the statues were covered on the orders of Chief Election Commissioner after opposition parties complained that the elephants, made at the cost of public money might give an unfair advantage to BSP being Party symbol. There were nine such Park including Manywar Kansiram ji Green Eco Garden at VIP road, Dr. Bhimrao Ambedkar Samajik Parivartan Sthal Gomtinager and Smriti Upvan, Kansiram Smarak, Jail road were closed for draping statues.
MANYWAR KANSIRAM JI
( 15 March 1934 to 09 Oct.2008 ) -
" I will never get married, I will never acquired any property, and I will never visit my home. I will devote and dedicate my rest life to achieve the goal of Phule-Ambedkar movement." -said Manywar Kansiram ji.
One who dedicated his entire life to organize the downtrodden, exploited and backward section of the society so as to enable them to stand on their feet, is Manyawar Kansiram ji. He is known for the work of Social Transformation'.
The journey of Manywar Kansiram ji is started way back in 1934 when a son was born in the Sikkh family belonging to Ramdassia ( a untouchable caste in Hindu society ) community on 15 March in a Panjab village Khawas Pur. He completed B.Sc and in 1957, he had joined as Assistence Scientist in DRDO Kharki, Pune (M.S.).
In this Ordinance Factory, he met with management partiality which brought a turning point in his life. The factory management had cancelled the holiday of Dr. Baba Saheb Ambedkar and instead granted Tilak Jayanti holiday as an additional holiday. This provoked ire within SC/STs employees. This incident opened the eye of Kansiram. He made commitment that he would work for the cause of society.
With a view to organize dalits, backwards and other weaker section of the society, he traveled all over the India with his followers without bothering about his health, food and means of transport. He thought, to organize people, their educated lot is need to be used for the cause of society. After hard work and preparation, he formed BAMCEF (Bachwards And Minorities Confederation of Employees Federation) on 6th Dec.1978 on the theme of 'pay back to society'. The basic aim of the BAMCEF was to developed genuine and capable leadership among the oppressed. It was an organisation of employees, by the employees but not for the employees.
Kansiram had dicided to take Dr. Ambedkar's Caravan ahead. Dr. Ambedkar had said,
Politics is the master key to unlock all doors
. And hence, after spending 20 years on this BAMCEF , he made 'Bahujan Samaj Party' ( BSP ), on the birth anniversary of Dr. Bhimrao Ambedkar on 14 April 1984.
Looking to his illness Manywar Kansiram ji handed over the regime of BSP to Mis. Mayavati who in later days, became the most powerful lady in Asian countries
BAHAN MAYAWATI
-
People call her Bahen ji i.e. Hon'ble Sister, in respect. But, she was not a Bahen ji. To call her Bahen ji, she made a long struggle. Prabhudas, retired Section Officer from Govt.Postal Depott. and mother, Ramrati (housewife) may proud on their baby who came in their family on 15 Jan.1956. They belongs to Jatav ( a untouchable caste in Hindu society ) by caste
Mayavati had B.A., B.Ed. and L.L.B. She was teacher and was in preparation for I.A.S. exam.when the founder of social Engineering, Manywar Kansiram ji came her house. Looking to her passion about her study, he asked; 'I can make you such a big leader one day that not one but a whole row of IAS officers will line up for your order.' Being convinced the Political truth, Mayavati begain to think about this mirecle.
She left father's house and went to search her root with her mentor Manywar Kansiram ji.In 1984, Kansiram founded the BSP as Party to represent the 'Bahujan (SC/ST/OBC and Minorities). Mayavati was a key member for his struggle.
BSP fielded Mayavati for its first election campaign from the Khairana Lok Sabha seat. In Nov.1989, she became the Member of Parliament in 9th Lok Sabha ( Lower House) Election from Bijnor constituency. In April 1994, she elected for Rajya Sabha(Upper House) from U.P. In June 1995, she became the Chief Minister and created the history by becoming India's first Dalit women chief minister heading Bahujan Samaj Party government in India's most-populated state of Utter Pradesh. In the words of P.V.Narasimha Rao, the former Prime Minister of India, she became the 'Miracle of Indian Democracy
In 1993, she had formed a coalition with SP ( Samajvadi Pary ) and during 1997 to 2002, she was the CM in coalition with BJP ( Bhartiya Janta Party ). Unfortunately, she had to withdrew her support in midterm. In 2007, BSP fielded candidates from a varieties of castes and religions.The campaign was accompanied by a slogaan ' Haathi Nahin, Ganesh hain; Brahma Vishnu Mahesh hain ( The elephant is really the lord Ganesha; the trinity of gods rolled into one).This slogan attracted every one including upper castes.
The Bahujan Samaj Party is emerged as one of the main national party under the stewardship of Mayawati. Mis. Mayawati is emerged as a lady of new hope and aspiration to the society. Committed and devoted to the missionary cause to the people belongs to 'Bahujan Samaj (SC/ST/OBC/Miniorities ), Mayawati is the only politician in the India having a mass appeal and firm hold and command over her voters.
Mayavati had created 5 district and named after towering Dalit icons.But, in U.P. election 2012, when she lost the mejority, its rival Party head Mulayam Singh Yadav, Samajvadi Party Govt. changed their names. The SP Govt. also changed names of some other Memorials/ Parks and Universities/Hispitals suiting his Party line.
Mayavati used to say to her Party person; "I did not marry because I did not want to deviate from my commitment to the cause of societry". She reminds her people, that "even my relationship with my family members including my father, mother, brothers and sisters will continue only as long as they are devoted to the cause of Bahujan Samaj Party".
When Mayavati became U.P. Chief Minister 4rth time, she announced an agenda focused on providing social justice to the weaker section of the society. As part of her social reform plans, she advocates reservation for the poor among upper castes in addition to reservation for weaker section of the society.
For over a millennium, a mejority of the people belonging to SCs, STs and OBCs have been victims of an iniquitous social order, based on Varna and caste that they were forced to live as inhumanly. Over the ages, a number of Saints, Gurus and Masiha have made great sacrifices for this struggle. The Buddha Vihar Shanti Upvan, Manywar Kansiram Memorial, Dr. Bhimrao Ambedkar Memorial, Rashtriya Prerana Kendra Noida etc are dedicated to these Saints, Gurus and Masiha. These were constructed to the honor of "unparalleled struggle of these stalwarts towards social transformation".
Major Parks and Memorials -
1. Buddha Vihar Shanti Upvan, Lucknow.
2. Manywar Kansiram Memorial ( Smarak Sthal ) Jail Road Lucknow
3. Dr. Bhimrao Ambedkar Memorial ( Samajik Parivartan Sthal ), Gomtinager Lucknow
4. Manywar Kansiram Eco Green Garden ( Park ) at VIP Road Lucknow
5. Rashtriya Dalit Prerana Sthal Grater Noida Delhi
6. Kansiram Bahujan Nayak Park
7 . Ramabai Ambedkar Railly Maidaan
8. Manywar Kansiram Yaadgaar Vishram Sthal
9. Samta Mulak Chowk
10. Dr. Ambedkar Chauraha
11. Dr. Bhimrao Ambedkar Gomti Vihar
1. BUDDHA VIHAR SHANTI UPVAN, LUCKNOW -
Buddha Vihar
shanti Upvan is situated on the banks of Sarda canal, at VIP road. It is spread over an area of 27 acres. The whole building, built with sand stone; present a rare picture of architecture and symmetry. Building with tall pillars give a grand look. Excellent green lawns with fountains are very attractive. The shining ways give glow touch to the tourist's mind. Standing four faceted 18' statues of Lord Buddha, each 16' high statues of Manywar Kansiram ji and Miss Mayavati called visitors close to closer. On either side of the two statues two bronze fountans are built, which are 29' high with a diameter of 24 feet. In the Buddha Vihar shanti Upavan, there is a 230 meter long grand colonnade.
The Buddha Vihar building is grand and magnificent.having a big Meditation Hall in upper part. The statue of Lord Buddha at the middle, one side of the Hall gives massage of peace to the world. Visitors may seat and take part in the Prayer chanting by Bhikshus. In the lower part of the building, there is a big library. Hundred and thousands of Buddhist literature's volumes are kept there in Almira systematically. Librarians are posted there to keep record. Scholars may get their research work in this International Buddha Shodh Sansthan (Buddhist research Center). There is also a Bhukshu Niwas (residence).
Grand memorial is built on
Gomti river
. It is incredibly awesome architecture work which visitors would have ever seen. Indeed, lot of money and land was required but, to make it 'Dalit Prerana Sthal', it was quite essential.
2. MANYWAR KANSIRAMJI SMARAK STHAL -
Main Entrance
Streched over an area of 86 Acres of land Manywar Kansiramji Smarak Sthal is constructed on VIP road, Gomtinager Lucknow.
It is an example of excellent architecture and latest technique.The entire memorial is built using red sand stone imported from Rajsthan. Bronze statues, murals,attractive galleries, large elephant statues, excellent looking fountains, inscriptions and extensive green garden are major attraction of the memorial.
This marvelous structre is 52 M high with a dome 34 M in the main building. Inside the building 18' high bronze statue of Manywar Kansiram ji and Miss Mayavati ji . Inner side of Dome gallery, 6 bronze statues are placed with depicting the life journey of Manywar Kansiram ji.
Four extensive bronze fountains 27' high are placed inside of the wide premises. The main building is sorrounded by a gallery of 30 life size elephents
The memorial comes alive at night when sprawling Campus is illuminated with beautiful lighting.
The foundation of the memorial was laid on 9th Oct. 2007 and made open for public on 25 June 2009 by the then chief minister Mis. Mayawati ji.
Stmbha Dirgha
Stambh Dirgha spread over large area attract visitors and bring them in Great Ashoka reign.
3. DR. BHIMRAO AMBEDKAR SAMAJIK PARIVATAN STHAL
Dr. Bhimrao Ambedkar Samajik Parivartak Sthal - The foundation stone of this memorial was laid by former U.P. Chief Minister Mayavati in 1995 during the regime BSP Govt. Earlier, it's name was 'Dr.Bhimrao Ambedkar Udyan.
The sprawling complex is situated in an area of 107 Acre . It was opened for public on 14th April 08.
The main attractions of the complex are -
1.
Dr. Bhimrao Ambedkar Samajik Parivartan Memorial -
The memorial has 4 opening gates. The memorial looks like a grand Stupa. The monument having hight of 112' is erected on the Gomti river.This is a construction in the shape of flower with four petals.The sprawling complex is splendor beautiful architectural. Walls are made of pink marble. The central hall is dedicated to the life of Dr. Bhimrao Ambedkar. The18' high bronze statue of Dr. Ambedkar is seated on a big foundation facing two domes, is the main attraction of hall. Silver color of Central hall gives grand look of the monument.
The construction was started in 1995 when Mayavati became the Chief Minister
of Utter Pradesh for the first time. Initially, the Sthal was constructed on 28 Acres of land in Posh Gomti nager by taking away the land of Indira Gandhi Pratisthan, and now it as grown to 100 Acres. The Sthal work is continue in 1997 and 2002 on her two short timing period. When she became the chief Minister for the 4rth time in May 2007, the incomplete work could be finished.
It is said that 350 artisans are brought from Rajasthan to do the project work. The memorial ,symbol of Dalit empowerment was conceived for the firt time in 1995 with an initial investment of Rs. 9 Crores. The park was designed and landscaped by eminent artist Satish Gujral.
The memorial is dedicated to the memory of Dr. Ambedkar.It was opened for public on 14 April 2008 by former chief minister of Utter Pradesh. Main attraction of the comlex are -
1.
Dr. Bhimrao Ambedkar Buddha Vihar
Four faceted statue of Lord Buddha
-Adjecent to Dr. Bhimrao ambedkar Samajik Parivartan Sthal, a 30 meters wide and about 700 meters long strech of Gomati river front is doveloped as Dr. ambedkar Buddha Vihar on an area of 7.5 acres. The 18' high four feceted marble statue of Lord Buddha is installed there.
2.
Dr. Bhimrao Ambedkar Samajik Parivartan Sangrahalaya -
Opposit to Dr. Bhimrao Ambedkar Memorial, you can view a Sangrahalaya (Museum) over an area of about 2.5 Acre. The building with two domes on its top, looks impressive and gives the perception of Buddha culture and art. Inside of the building, statue of Mahatma Jyotiba Phule, Rajshri Chhatrapati Sahu Maharaj, Saint Narayan Guru, Dr. Bhimrao Ambdkar, Manywar Kansiram ji are there. In other building, 18' tall marble statue of Buddha, Saint Kabir, Saint Ravidas, Guru Ghasidas and Birsa Munda are there.
3.
Dr. Bhimrao Ambedkar Samajik Parivartan Gellery
- A grand gellery mural made of bronze is in an area of about 4 Acres.
4.
Samajik Parivartan Pratik Sthal
- This monument is appears as a gateway to the Dr. Bhimrao Ambedkar Samajik Parivartan sthal. It is construted on Gomti Dam. Standing statues of Dr. Bhimrao Ambdkar with Ramabai on high Platform gives grand look. Statues of Manywar Kansiram and Bahen Mayawati are also erected. The Monument was made open on 14th April 2008 by Mayawati ji..
5. Monumental Elephant Gallery
- This is the grand look of
Pratibimb Sthal
.The main entrance of the memorial is guarded by 62 statues of life-size elephants either side of the way. Each red sand stone statue is erected on granite-covered pedestal.
Inscription stone
-
DR. Ambedkar Gomti Park
-
At Bijnor road, this beautiful Park is spread over 22 Ares of land. Fountains installed are very magnificent.The Monument having grand staue of Dr. Bhimrao Ambedkar were open for public by Chief Minister Mayawati ji on 14 April 2008.
4. MANYWAR KANSIRAM JI ECO GREEN PARK
-
Spreading over 112 Acre land, it is the biggest Ecological Park in the world. This Park is situated on Jail Road i.e. north side of Manywar Kansiram ji Smark Sthal. The Park has two main entrences. One on the VIP Road and the othe , right opposte facing towards Gitapalli colony.The design of the Park is to protect the envirnment from the increasing pollution in the city.
Central mound,wide lawn and special types of trees/plant are very attractive. Pathways, stairs, light fountains are designed beautifully. About 500 artificial animals in 25 varieties are in different postures. These artificial bronze animals; lions,tigers, monkeys,dinosaurs, elephants etc in different poses are amusing to the children and adults. Several fountains with colored water falls gives majestic look from far away in night. A pathway about 13 Km. is there to have a walk and look to these surroundings
.
Apart from various fountains and green hills, a green house is most meaningful to the Eco Park. This Park is made open for public on 3rd March 11. The grand park may be divided in three zones -
1.
The Buffer area
- This is in 40 Acre land, It comprised of Cactus garden, 52' tall bronze fountains, 9' high Ashoken pillars, Granite platform with benches.
2.
Main Park
- It is spreaded over 190 Acre of land and is comprised two huge entrence plazas with a 20 Mtr. wide water bodies adorned with four bronze fountains and eight sandstone fountains. A rock garden comprised an area of 800 Sq. M. where in bronze structure of animals, trees and birds are installed. An awe-inspiring cup shaped statue made of sand stone is positioned there at the central part over an area of 80,000 Sq. M.
3. P
ublic amenities and Parking
- Public facilities like parking place, administrative building and well dressed public toilet with cleaning staff remains there.
SAMTA MULAK CHOWK
- The crossing junction at the newly built 8 lanes Gomti bridge is named 'Samta Mulak Chowk. The wide land-scaping is greenery and very attractive.Magnificent black stone statues of Chhatrpati Sahu ji Maharaj, Mahtam Jyotiba Phule and Sant Narayan Guru are installed there.
5. Rashtriya Dalit Prerana Sthal ( Dalit tribute Monument )
The monument includes a mini-museum known as Rashtriya Dalit Prerana Sthal spreade over an area of 33 Acres and Green Park built on area of 82.5 Acres of land at the bank of river Yamuna at Noida. Rashtriya Dalit Prerana Sthal have 15 Dalit icons including Dr. Ambedkar, Kansiram ji, Mayawati ji etc..There are 24 Pink sand stone and 22 bronze statues of elephents. It was inargurated on 14 Oct. 2011 by Mayawati, the then chief minister of Utter Pradesh.
In Oct. 2009, Supreme Court had ordered the Mayawati Govt. to stop the construction work that 'the project might not be eco-friendly as it is located near the Okhla Sanctuary'. But, in Dec. 2010, the court okeyed the project.
.
Ramabai Ambedkar Maidaan
-
It is spreded over an area of 51 Acres of land at Aurangabad near Bijnor. Statue of Ramabai and Dr. Bhimrao Ambedkar have a grand look there.
Dr.Ambedkar Gomti Vihar
- It is over an area about 90 Acres near Ambedkar Parivartan Sthal. The Vihar is situated aajcent to 4 other huge Parks, ideal for strolling and picking.
Hue and cry over 'wastage of money'
-
Media and almost all other political Parties had criticised the Mayavati's dream project work. They condemned the installation of her own statue. But, it was the 'will' of Kansiram ji, BSP spokman had said. Similarly, there is hue and cao-cao over 'wastage of people's money' but BSP authority has made clear that the Parks/ Memorials are funded partly with money from the state budget and partly through donation. It is assumed that the entry fees would be helpful to make up the cost and running maintenance.